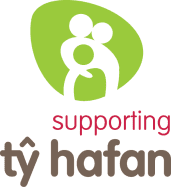 Our long standing relationship with the children's hospice Tŷ Hafan has seen us hold many events to raise money, including quiz nights, office sweepstakes, bake-offs, raffles, a glamorous black-tie dinner, and even a 51km walk! Along with our monthly dress-down Fridays, we are extremely proud to have raised over £10,000 in 2018, and over £25,000 in total over the three years we have supported the charity!
Our first achievement for Tŷ Hafan was gained when we were awarded an engraved bronze apple to place on their commemorative Gift Tree at the hospice, for reaching our 'Pay for a day goal' of £11,000 – the equivalent of running costs for just one day. We have been invited to visit the hospice on a number of occasions since, having created our very own finger painting, taken part in their Christmas pantomime, and most recently a 'Crafternoon' session! As well as this a handful of staff have been given a tour of the hugely beneficial and extensive facilities.
We continue to support the charity and look forward to many more fundraising events, including our next Black-tie dinner in 2020 – details to follow later this year!
Providing comfort care to life-limited children and young people throughout Wales, Tŷ Hafan is one of the UK's leading paediatric palliative care charities. They provide emotional and practical support to parents and siblings, helping to create special memories, offering support and respite not only at the hospice but in the homes of the families or in hospital, doing so completely free of charge.
For information on how you can support Tŷ Hafan, please visit www.tyhafan.org/support-us/●
Eleni Dowsell, Events and Marketing Officer
eleni.dowsell@quantumadvisory.co.uk