On Thursday, 21 June 2016, the Pension Protection Fund (PPF) released its Annual Report and Accounts for the 12-month period ending 31 March 2016. The accounts show that the PPF is in a strong financial position with a £4.1 billion surplus and a funding level ratio of 116.1%; an increase from a £3.6 billion surplus and a funding level ratio of 115.1% as disclosed in the 2014/15 Annual Report and Accounts.
The assets under management have increased by 4% to £23.4 billion. It's interesting to note that the levies collected by the PPF make up 25% of the assets. The composition of the assets is shown in the chart below.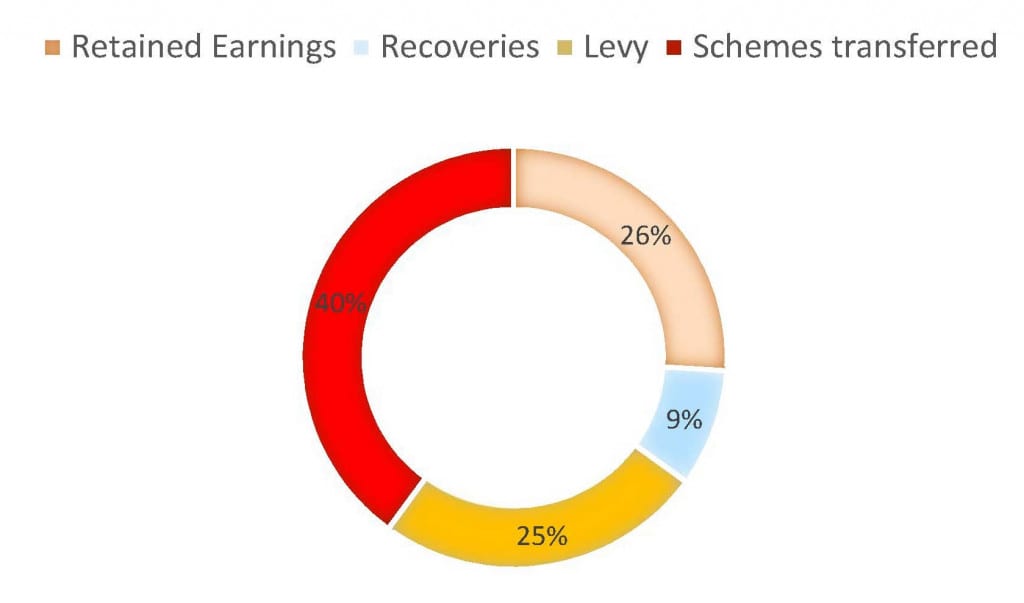 A reoccurring view from the accounts which features notably in the Chairman's Statement, Chief Executive's Performance Review and the Performance Report is that the PPF is on track to meet its target of financial self-sufficiency by 2030. The current projections produced by the PPF suggest that this target will be achieved with a 93% probability; an increase on last year's estimate of 88%. It should be noted that the 5% probability increase of the PPF achieving financial self-sufficiency has been primarily attributed to enhancements to the modelling software that it uses.
A hot topic of discussion at the moment, and will continue to be for some time yet, is the collapse of BHS and its pension schemes. It is reassuring to note that the 93% probability of the PPF meeting its financial self-sufficiency target allows for the BHS pension schemes entering the PPF assessment period during March 2016.
Whilst fewer claims have been made on the PPF since the previous reporting year, the value of the claims has increased with the BHS pension schemes contributing heavily to this. The PPF compensation paid to members continues to grow. The accounts show that £616 million was paid between the period 1 April 2015 and 31 March 2016; an increase of 9% over the previous accounts. With the BHS pension schemes currently in the assessment period, we expect next year's accounts to show this amount has increased above the annual increases granted by the PPF.
The overall message from the accounts is that the PPF is pleased with the performance of the 12 months to 31 March 2016, however it is not complacent and will strive to continue to react positively to the difficulties that undoubtedly await it in the future.
Ryan Parsons
Quantum Advisory