Introduction
On 3 March 2020 the Pensions Regulator (tPR) launched the first part of its consultation on the funding of defined benefit (DB) pension schemes. This consultation builds on the conclusions of the government's White Paper published in March 2018 and the proposals made in Pension Schemes Bill which was brought to Parliament on 7 January 2020. The consultation closes on 2 June 2020 and is seeking views on:
tPR's proposed regulatory approach (twin-track compliance routes and approach to prudence and risk-taking);
tPR's proposed key principles;
the application of these principles through more detailed guidance.
The second part of the consultation is due to be launched later in 2020 will focus on the draft revised DB funding code of practice, what guidelines might look like and any changes to legislation. tPR anticipates that the new code and any supporting legislation will come into force at the end of 2021.
Key principles
tPR sets out eight key principles in the consultation which are described below:
Compliance and evidence – tPR expects trustees and employers to understand the risks their scheme faces and objectively evidence how each risk has been assessed or managed.
Long-term objective (LTO) – tPR expects significantly mature schemes to have low dependency on the employer and high resilience to investment risk.
Journey plans and technical provisions (TP) – trustees are expected to develop a journey plan to meet their LTO. As a scheme matures it should reduce its investment risk and reach low dependency and TPs should have a "clear and explicit link" to the LTO and converge to it over time.
tPR is not expecting all schemes to set TPs at an LTO level immediately or within a short timeframe. TPs are intended to measure progress towards LTO and tPR recognises there are many different paths that trustees can take to reach the LTO.
Scheme investments – actual investment strategy and asset allocation should be consistent with the scheme's funding strategy. tPR wants trustees to ensure their investment strategy has sufficient security and quality as well as the required liquidity to meet expected cash flows (with a reasonable allowance for unexpected cash flows). Risks taken should be supportable.
Reliance on the employer covenant – schemes with strong employer covenants can take more risk but trustees should assume that the level of reliance on the covenant reduces over time. tPR intends to place more focus on covenant visibility and trustees will have to justify any reliance on the employer covenant beyond the medium term (typically three to five years).
Reliance on additional support – additional support can be recognised in valuations provided it is appropriately valued, legally enforceable and realisable at its necessary value and provides sufficient support for the risks being run.
Appropriate Recovery Plan (RP) – deficits should be recovered as soon as possible, allowing for affordability and the minimisation of any adverse impact on the sustainable growth of the employer. tPR aims to provide greater clarity on what they consider appropriate RPs and will set some limits.
Open schemes – the accrued benefits of members in open schemes should have the same level of security as those in closed schemes. tPR are not advocating for the closure of open schemes but believe that the accrual of future benefits should not compromise the security of accrued benefits.
A twin-track regulatory approach
Building on the need for greater clarity, tPR is proposing a twin-track route to compliance with the funding code. These two routes are termed "Fast Track" and "Bespoke" and trustees would be able to choose which route they wish to follow. The principles described above will apply to both approaches.
With the proposed Fast Track approach, tPR is not intending to re-introduce a "Minimum Funding Requirement" style regime but believes an objective funding standard where the prudence and level of risk is assessed against prescribed benchmarks is needed to bring the desired clarity.
It is worth noting that trustees will not be committed to maintaining one particular approach at future valuations – this decision will be driven by the circumstances of a scheme.
The two routes can be summarised as follows: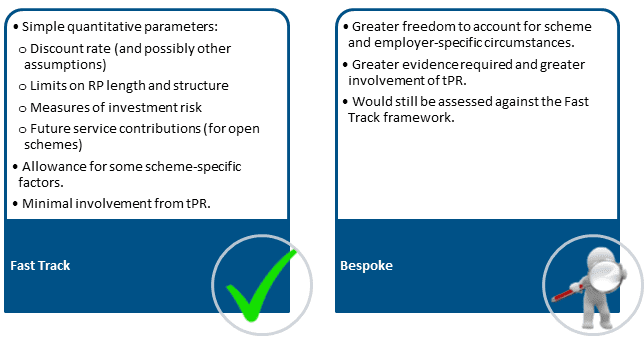 Next steps
tPR is collecting feedback in response to the consultation, and also via stakeholder events that are taking place across the UK.
The full consultation document can be found here:
https://www.thepensionsregulator.gov.uk/-/media/thepensionsregulator/files/import/pdf/db-funding-code-of-practice-consultation.ashx
tPR's online response form can be found here:
https://www.thepensionsregulator.gov.uk/-/media/thepensionsregulator/files/import/pdf/db-funding-code-of-practice-consultation-questions.ashx
For further detail regarding how the proposed regime is likely to affect your scheme, please get in touch with your usual Quantum contact.